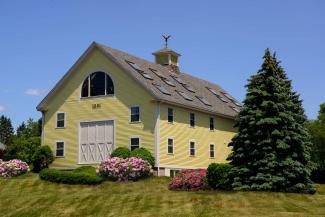 Retirement Financial Center announces new ownership
Managing partners Philippe E. Berthoud and William E. Riquier recently purchased complete interest in The Retirement Financial Center in Danvers.
The Big Yellow Barn on state Route 128 in Danvers, an icon on the north shore, will remain the home of the 47-year practice.
"We look forward to carrying on our history of providing complimentary education to help people retire and stay retired and plan to resume Classes at the Barn in the near future," Berthoud said. "We are dedicated to providing the sound financial guidance, education and the investment expertise required in every phase of retirement planning."
Berthoud is a financial adviser and an investment advisory representative of United Planners Financial Services. He holds Series 7, 63, 65 and 24 securities licenses and is licensed for life and health insurance in Massachusetts and several other states. Before joining The Retirement Financial Center in the fall of 2006, he founded and ran a nonprofit soccer ministry and coached soccer at the collegiate level. Over his career, he has developed strong financial planning, business and leadership skills. Berthoud graduated from Gordon College with a Bachelor of Arts in economics.
"As United Planners investment advisory representatives, we are committed to our clients' long-term investing success," Riquier said. "We take a disciplined approach by adhering to a model that utilizes securities market trends to guide our allocation balances and fund choices. They rely on us to handle these decisions for them so they can live their lives."
Riquier is a registered representative of United Planners Financial Services, holding Series 7 and 66 licenses. He is also a licensed life and health insurance producer in Massachusetts. Prior to joining The Retirement Financial Center, Riquier held positions in corporate finance, performance metrics and financial controls testing. Riquier has a bachelor's degree from Tufts University and a Master of Business Administration from Boston University.
Source by: danvers.wickedlocal.com
URL: http://danvers.wickedlocal.com/news/20180510/retirement-financial-center-announces-new-ownership